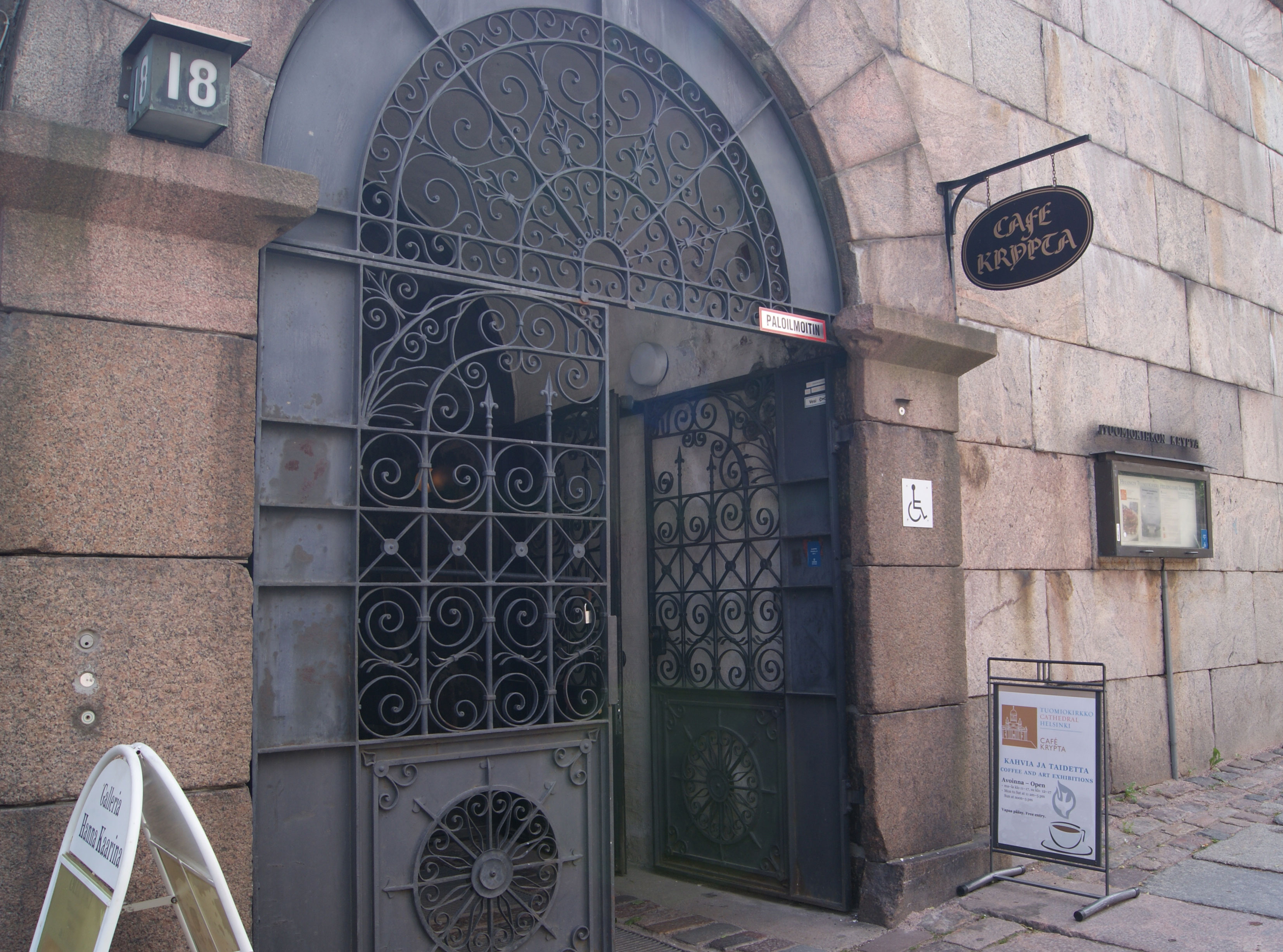 Café Krypta
In summertime, the Crypt is home to Café Krypta. The crypt is located under the Cathedral. Access to the Crypt is from Kirkkokatu 18 or by elevator from the Cathedral.
In Summer 2020 Café Krypta is open during June, July and August. Opening hours are from Monday to Friday 11 am - 3 pm.
You'll find our weekly menu on our Facebook -page.
ewogICJlbGVtZW50X21vZGUiIDogIiIsCiAgImVsZW1lbnQiIDogImhzcmt5L3RrL29zaW9zaXZ1L2FsaW5hdmlnYWF0aW8iLAogICJlbGVtZW50LmNvbXBvbmVudCIgOiAidHJ1ZSIsCiAgImVsZW1lbnQuNiIgOiAiZmFsc2UiLAogICJlbGVtZW50LjUiIDogImZhbHNlIiwKICAibmF2aWdhYXRpbyIgOiAidGsvbmF2aWdhYXRpbyIsCiAgInNlY3Rpb24iIDogImRlZmF1bHQiLAogICJlbGVtZW50LnB1YmxpY2xpbmsiIDogIi9lbGVtZW50Lmh0bWwuc3R4IiwKICAiaW1wb3J0cGF0aCIgOiAiL3dlYmNvbXBvbmVudHMvaHNya3kvdGsvb3Npb3NpdnUvYWxpbmF2aWdhYXRpby8iLAogICJVSUQiIDogImlkcENreFBVTVNlIiwKICAiY3NzIiA6ICJjc3MvYWxpbmF2aWdhYXRpby5jc3MiLAogICJlbGVtZW50LnB1YmxpY2NvbXBvbmVudCIgOiAidHJ1ZSIsCiAgImRhdGFfbGlzdGVuZXJzIiA6ICJoc3JreS90ay9vc2lvc2l2dS9hbGluYXZpZ2FhdGlvLC9jbXNhY3Rpb25zIiwKICAic2l0ZSIgOiAiIiwKICAiY2FyZGNoYW5uZWwiIDogInB1YmxpYyIsCiAgIkNVUlJFTlRQQVRIIiA6ICIvaHNya3kvdGsvb3Npb3NpdnUveWxhb3NhL2hzcmt5L3RrL29zaW9zaXZ1L2FsaW5hdmlnYWF0aW8vIiwKICAidXJsZXhlY3V0ZXBhdGgiIDogIi9jaGFubmVscy9wdWJsaWMvd3d3L2hlbHNpbmdpbnR1b21pb2tpcmtrby9lbi9pbmRleC9Uemp2UGI2WEEiLAogICJlbGVtZW50LmxpbmsiIDogIi9lbGVtZW50Lmh0bWwuc3R4IiwKICAibGlzdGVuZXJwYXRoIiA6ICIvY21zYWN0aW9ucyIsCiAgInNraW4iIDogInNraW5zL2FsaW5hdmlnYWF0aW8uaHRtbCIsCiAgImVsZW1lbnQubG9hZCIgOiAic2VydmVyIiwKICAiWFhYZWxlbWVudC5vbmxvYWQiIDogInNlcnZlciIsCiAgImNoYW5uZWwubGFuZ3VhZ2UiIDogImVuIiwKICAiSU5TVEFOQ0VJRCIgOiAicENsMHBvZ1h3IiwKICAiZWxlbWVudC5tb2RlIiA6ICJlbGVtZW50IiwKICAiZWxlbWVudC5sYW5ndWFnZSIgOiAiZmkiLAogICJpMThuLmJhc2UiIDogImhzcmt5L3RrL29zaW9zaXZ1L2FsaW5hdmlnYWF0aW8iLAogICJlbGVtZW50LnBhdGgiIDogImhzcmt5L3RrL29zaW9zaXZ1L2FsaW5hdmlnYWF0aW8iLAogICJwdWJsaWN1cmwiIDogIi9lbGVtZW50Lmh0bWwuc3R4IiwKICAiZWRpdHVybCIgOiAiL2Jpbi9nZXQvdmVkL1R6a2VscjVUTS5UemxRNlU3ZWEuREV4TlR2ekk3IiwKICAiIiA6ICIiLAogICJ2aWV3dXJsIiA6ICIvYmluL2dldC92aWQvVHprZWxyNVRNLlR6bFE2VTdlYS5ERXhOVHZ6STciLAogICJHVUlEIiA6ICIiLAogICJsYW5nIiA6ICIiCn0=