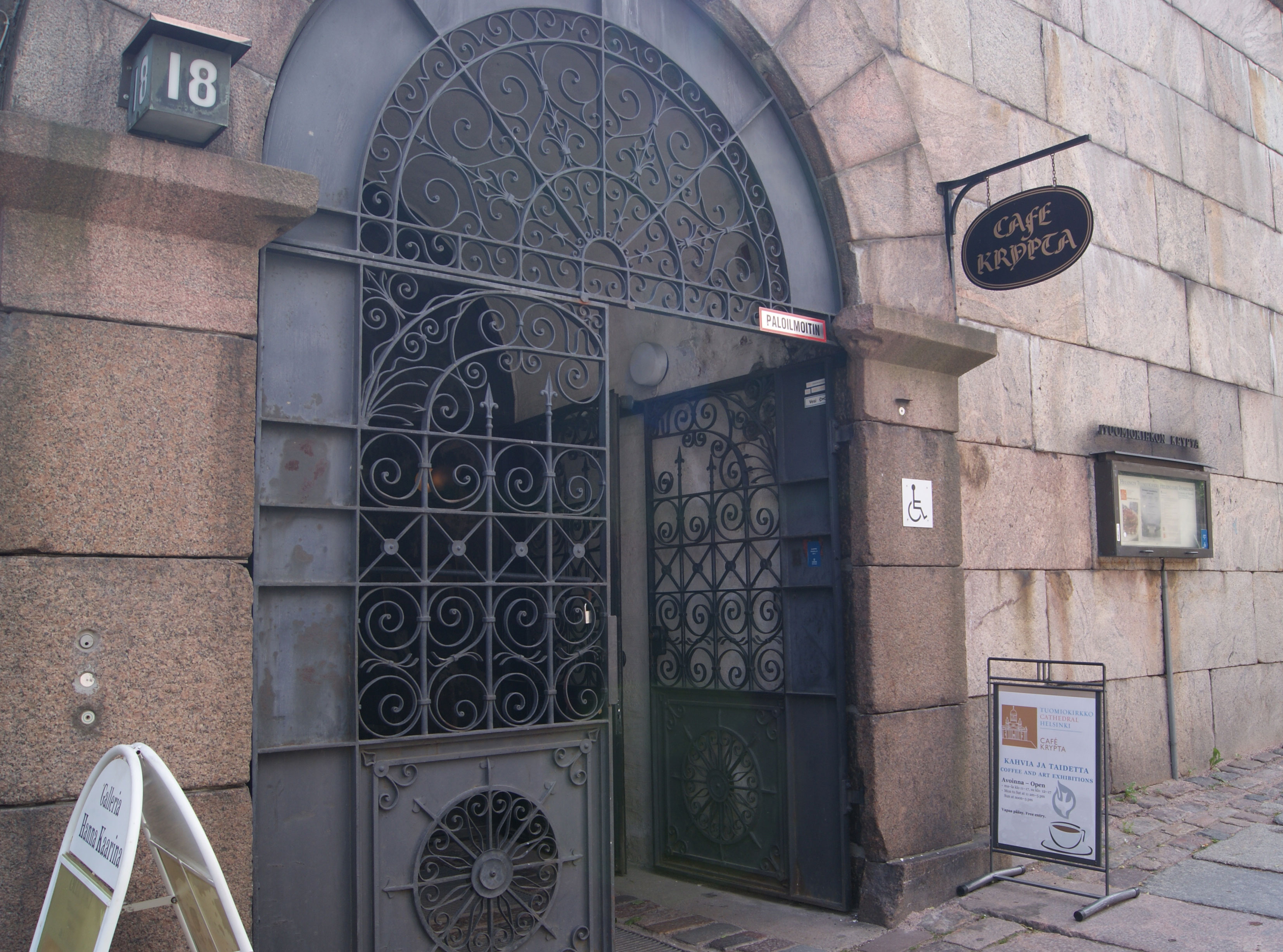 Crypt
‍The vaulted ceiling of the Cathedral Crypt offers an impressive setting for art exhibitions and each summer the Crypt hosts changing shows free of charge. ‍The Crypt is located under the Cathedral. Access to the Crypt is from Kirkkokatu 18 or by elevator from the church hall.
Kristine Nordling & Svetlana Ruoho: Dotted by Light
Dotted by Light - art exhibition by Kristine Nordling and Svetlana Ruoho in the Crypt until 21 August. The exhibition is open Mon - Sat 11 am - 5 pm, Sun 12 noon - 5 pm.
Forthcoming Art Exhibitions
23 August - 4 September 2022 Kirsi Kivivirta & Merja Keskinen
6 September -18 September 2022 Pirjo Väisänen
If you are interested in hosting an exhibition in the Crypt, please contact service manager Anni Roiha for more information, telephone 050 442 0050 or email anni.roiha@evl.fi.
ewogICJlbGVtZW50X21vZGUiIDogIiIsCiAgImVsZW1lbnQiIDogImhzcmt5L3RrL29zaW9zaXZ1L2FsaW5hdmlnYWF0aW8iLAogICJlbGVtZW50LmNvbXBvbmVudCIgOiAidHJ1ZSIsCiAgImVsZW1lbnQuNiIgOiAiZmFsc2UiLAogICJlbGVtZW50LjUiIDogImZhbHNlIiwKICAibmF2aWdhYXRpbyIgOiAidGsvbmF2aWdhYXRpbyIsCiAgInNlY3Rpb24iIDogImRlZmF1bHQiLAogICJlbGVtZW50LnB1YmxpY2xpbmsiIDogIi9lbGVtZW50Lmh0bWwuc3R4IiwKICAiaW1wb3J0cGF0aCIgOiAiL3dlYmNvbXBvbmVudHMvaHNya3kvdGsvb3Npb3NpdnUvYWxpbmF2aWdhYXRpby8iLAogICJVSUQiIDogImlkbFE1TGFGbHhnIiwKICAiY3NzIiA6ICJjc3MvYWxpbmF2aWdhYXRpby5jc3MiLAogICJlbGVtZW50LnB1YmxpY2NvbXBvbmVudCIgOiAidHJ1ZSIsCiAgImRhdGFfbGlzdGVuZXJzIiA6ICJoc3JreS90ay9vc2lvc2l2dS9hbGluYXZpZ2FhdGlvLC9jbXNhY3Rpb25zIiwKICAic2l0ZSIgOiAiIiwKICAiY2FyZGNoYW5uZWwiIDogInB1YmxpYyIsCiAgIkNVUlJFTlRQQVRIIiA6ICIvaHNya3kvdGsvb3Npb3NpdnUveWxhb3NhL2hzcmt5L3RrL29zaW9zaXZ1L2FsaW5hdmlnYWF0aW8vIiwKICAidXJsZXhlY3V0ZXBhdGgiIDogIi9jaGFubmVscy9wdWJsaWMvd3d3L2hlbHNpbmdpbnR1b21pb2tpcmtrby9lbi9pbmRleC9Uemp2UGI2WEEiLAogICJlbGVtZW50LmxpbmsiIDogIi9lbGVtZW50Lmh0bWwuc3R4IiwKICAibGlzdGVuZXJwYXRoIiA6ICIvY21zYWN0aW9ucyIsCiAgInNraW4iIDogInNraW5zL2FsaW5hdmlnYWF0aW8uaHRtbCIsCiAgImVsZW1lbnQubG9hZCIgOiAic2VydmVyIiwKICAiWFhYZWxlbWVudC5vbmxvYWQiIDogInNlcnZlciIsCiAgImNoYW5uZWwubGFuZ3VhZ2UiIDogImVuIiwKICAiSU5TVEFOQ0VJRCIgOiAibFE1TUg1ekJZIiwKICAiZWxlbWVudC5tb2RlIiA6ICJlbGVtZW50IiwKICAiZWxlbWVudC5sYW5ndWFnZSIgOiAiZmkiLAogICJpMThuLmJhc2UiIDogImhzcmt5L3RrL29zaW9zaXZ1L2FsaW5hdmlnYWF0aW8iLAogICJlbGVtZW50LnBhdGgiIDogImhzcmt5L3RrL29zaW9zaXZ1L2FsaW5hdmlnYWF0aW8iLAogICJwdWJsaWN1cmwiIDogIi9lbGVtZW50Lmh0bWwuc3R4IiwKICAiZWRpdHVybCIgOiAiL2Jpbi9nZXQvdmVkL1R6a2VscjVUTS5UemxRNlU3ZWEuREV4TlR2ekk3IiwKICAiIiA6ICIiLAogICJ2aWV3dXJsIiA6ICIvYmluL2dldC92aWQvVHprZWxyNVRNLlR6bFE2VTdlYS5ERXhOVHZ6STciLAogICJHVUlEIiA6ICIiLAogICJsYW5nIiA6ICIiCn0=