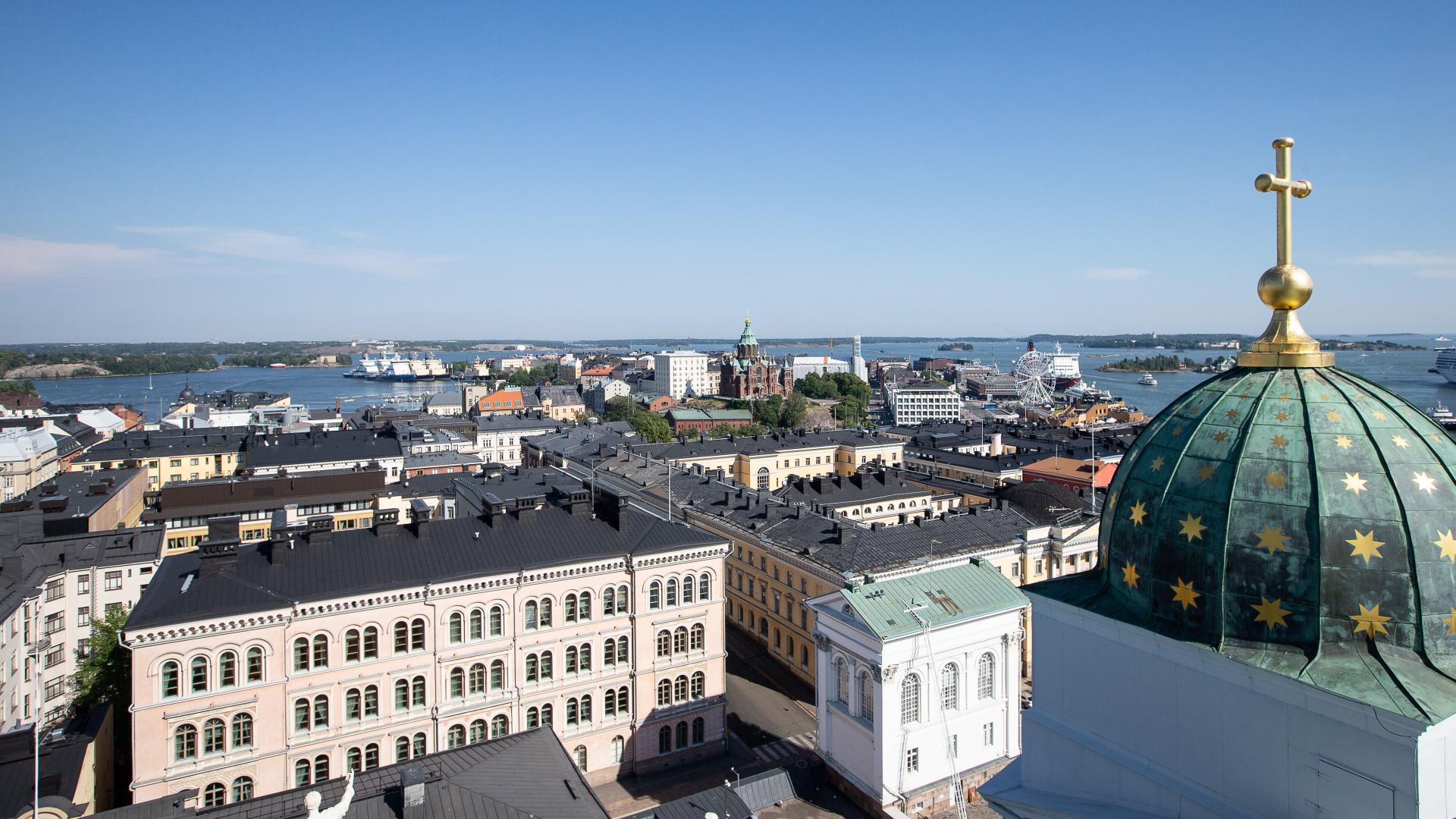 Info
Helsinki Cathedral
Unioninkatu 29, 00170 Helsinki tel. 09 2340 6120
The Cathedral is open for visits Mon-Sat 9 am - 6pm and Sun 11 am - 6pm. Visiting hours may change due to church events. Please visit us only if you are healthy, and keep a safe distance from others. We recommend using a face mask in all our premises.
Admission fee
From 1st of Mach, admission to the Cathedral is 5 €. The admission is voluntary, and it is valid only during the visiting hours.The proceeds of the admission go to the congregation.
Café Krypta
Kirkkokatu 18, 00170 Helsinki.
Café Krypta is open from June to August. The café is located in the Crypt. Access to the Crypt is from Kirkkokatu 18 or by elevator from the Cathedral.
Cathedral Shop
Unioninkatu 29, 00170 Helsinki
Cathedral Shop is located in the bell tower. The shop is open in 2021 from May to September, and in December.
‍
ewogICJlbGVtZW50X21vZGUiIDogIiIsCiAgImVsZW1lbnQiIDogImhzcmt5L3RrL29zaW9zaXZ1L2FsaW5hdmlnYWF0aW8iLAogICJlbGVtZW50LmNvbXBvbmVudCIgOiAidHJ1ZSIsCiAgImVsZW1lbnQuNiIgOiAiZmFsc2UiLAogICJlbGVtZW50LjUiIDogImZhbHNlIiwKICAibmF2aWdhYXRpbyIgOiAidGsvbmF2aWdhYXRpbyIsCiAgInNlY3Rpb24iIDogImRlZmF1bHQiLAogICJlbGVtZW50LnB1YmxpY2xpbmsiIDogIi9lbGVtZW50Lmh0bWwuc3R4IiwKICAiaW1wb3J0cGF0aCIgOiAiL3dlYmNvbXBvbmVudHMvaHNya3kvdGsvb3Npb3NpdnUvYWxpbmF2aWdhYXRpby8iLAogICJVSUQiIDogImlkS1JsM3hzQnhJIiwKICAiY3NzIiA6ICJjc3MvYWxpbmF2aWdhYXRpby5jc3MiLAogICJlbGVtZW50LnB1YmxpY2NvbXBvbmVudCIgOiAidHJ1ZSIsCiAgImRhdGFfbGlzdGVuZXJzIiA6ICJoc3JreS90ay9vc2lvc2l2dS9hbGluYXZpZ2FhdGlvLC9jbXNhY3Rpb25zIiwKICAic2l0ZSIgOiAiIiwKICAiY2FyZGNoYW5uZWwiIDogInB1YmxpYyIsCiAgIkNVUlJFTlRQQVRIIiA6ICIvaHNya3kvdGsvb3Npb3NpdnUveWxhb3NhL2hzcmt5L3RrL29zaW9zaXZ1L2FsaW5hdmlnYWF0aW8vIiwKICAidXJsZXhlY3V0ZXBhdGgiIDogIi9jaGFubmVscy9wdWJsaWMvd3d3L2hlbHNpbmdpbnR1b21pb2tpcmtrby9lbi9pbmRleC9qaTlTTHdxTzEiLAogICJlbGVtZW50LmxpbmsiIDogIi9lbGVtZW50Lmh0bWwuc3R4IiwKICAibGlzdGVuZXJwYXRoIiA6ICIvY21zYWN0aW9ucyIsCiAgInNraW4iIDogInNraW5zL2FsaW5hdmlnYWF0aW8uaHRtbCIsCiAgImVsZW1lbnQubG9hZCIgOiAic2VydmVyIiwKICAiWFhYZWxlbWVudC5vbmxvYWQiIDogInNlcnZlciIsCiAgImNoYW5uZWwubGFuZ3VhZ2UiIDogImVuIiwKICAiSU5TVEFOQ0VJRCIgOiAiS1JsMTVSSTZ5IiwKICAiZWxlbWVudC5tb2RlIiA6ICJlbGVtZW50IiwKICAiZWxlbWVudC5sYW5ndWFnZSIgOiAiZmkiLAogICJpMThuLmJhc2UiIDogImhzcmt5L3RrL29zaW9zaXZ1L2FsaW5hdmlnYWF0aW8iLAogICJlbGVtZW50LnBhdGgiIDogImhzcmt5L3RrL29zaW9zaXZ1L2FsaW5hdmlnYWF0aW8iLAogICJwdWJsaWN1cmwiIDogIi9lbGVtZW50Lmh0bWwuc3R4IiwKICAiZWRpdHVybCIgOiAiL2Jpbi9nZXQvdmVkL2ppNEV2dEdMUi5qaTMwR0pVTFIuREV4TlR2ekk3IiwKICAiIiA6ICIiLAogICJ2aWV3dXJsIiA6ICIvYmluL2dldC92aWQvamk0RXZ0R0xSLmppMzBHSlVMUi5ERXhOVHZ6STciLAogICJHVUlEIiA6ICIiLAogICJsYW5nIiA6ICIiCn0=