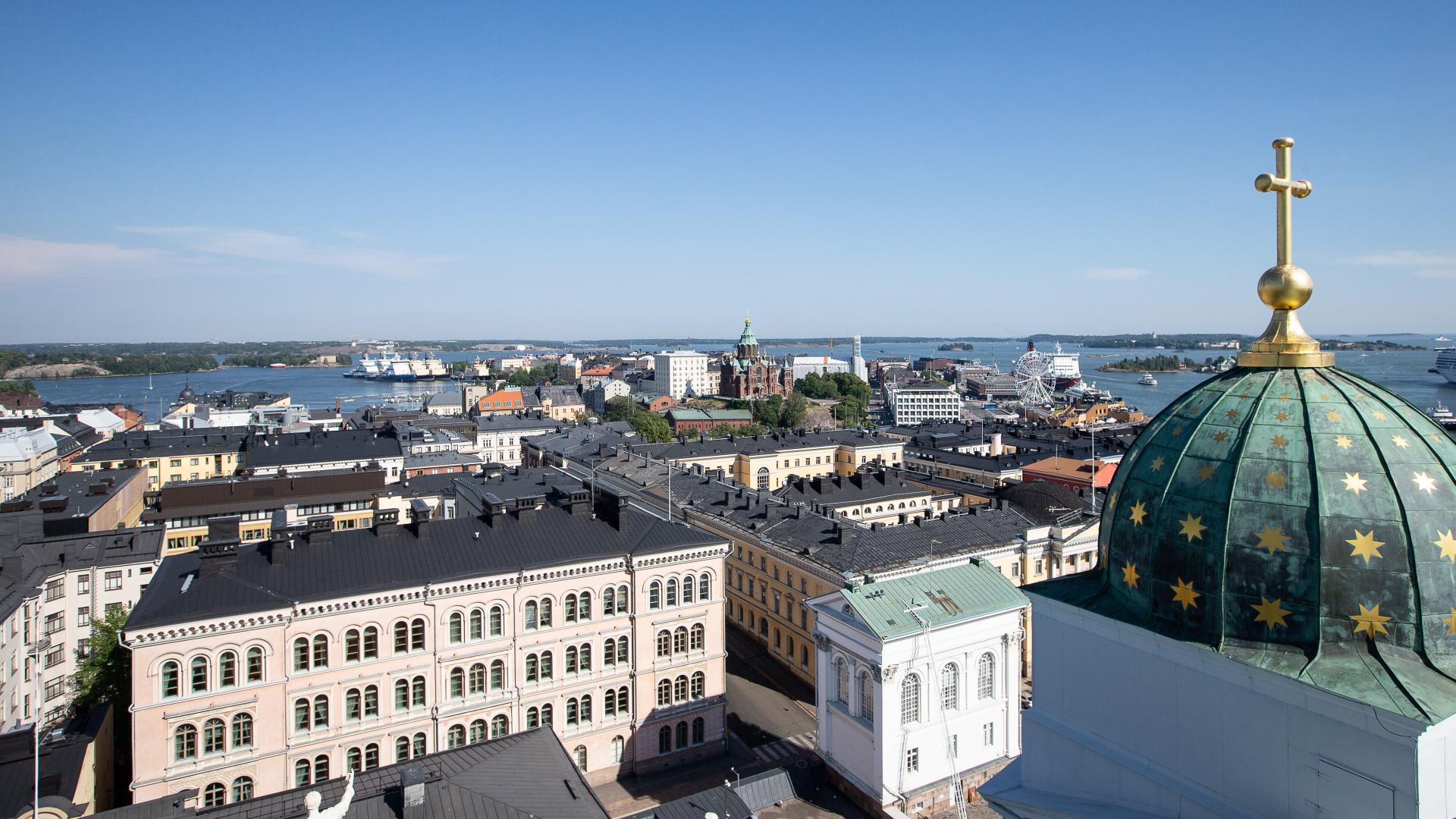 Info
Helsinki Cathedral
The Cathedral is open for visits Mon-Sat 9 am - 6 pm, Sun 11 am - 6 pm and from June to August Mon-Sat 9 am - 9 pm, Sun 11 am - 9 pm. Visiting hours may change due to church events.
Admission fee
Admission fee at Helsinki Cathedral is 5 €. Church visitors can pay the admission independently at the self-service checkout. The admission is voluntary and valid only during the visiting hours. All the proceeds of the admission go to the congregation.
Crypt
Crypt is open during the summertime. Access to the Crypt is from Kirkkokatu 18 or by elevator from the Cathedral.
‍
ewogICJlbGVtZW50X21vZGUiIDogIiIsCiAgImVsZW1lbnQiIDogImhzcmt5L3RrL29zaW9zaXZ1L2FsaW5hdmlnYWF0aW8iLAogICJlbGVtZW50LmNvbXBvbmVudCIgOiAidHJ1ZSIsCiAgImVsZW1lbnQuNiIgOiAiZmFsc2UiLAogICJlbGVtZW50LjUiIDogImZhbHNlIiwKICAibmF2aWdhYXRpbyIgOiAidGsvbmF2aWdhYXRpbyIsCiAgInNlY3Rpb24iIDogImRlZmF1bHQiLAogICJlbGVtZW50LnB1YmxpY2xpbmsiIDogIi9lbGVtZW50Lmh0bWwuc3R4IiwKICAiaW1wb3J0cGF0aCIgOiAiL3dlYmNvbXBvbmVudHMvaHNya3kvdGsvb3Npb3NpdnUvYWxpbmF2aWdhYXRpby8iLAogICJVSUQiIDogImlkT3ZXY0luV3VlIiwKICAiY3NzIiA6ICJjc3MvYWxpbmF2aWdhYXRpby5jc3MiLAogICJlbGVtZW50LnB1YmxpY2NvbXBvbmVudCIgOiAidHJ1ZSIsCiAgImRhdGFfbGlzdGVuZXJzIiA6ICJoc3JreS90ay9vc2lvc2l2dS9hbGluYXZpZ2FhdGlvLC9jbXNhY3Rpb25zIiwKICAic2l0ZSIgOiAiIiwKICAiY2FyZGNoYW5uZWwiIDogInB1YmxpYyIsCiAgIkNVUlJFTlRQQVRIIiA6ICIvaHNya3kvdGsvb3Npb3NpdnUveWxhb3NhL2hzcmt5L3RrL29zaW9zaXZ1L2FsaW5hdmlnYWF0aW8vIiwKICAidXJsZXhlY3V0ZXBhdGgiIDogIi9jaGFubmVscy9wdWJsaWMvd3d3L2hlbHNpbmdpbnR1b21pb2tpcmtrby9lbi9pbmRleC9qaTlTTHdxTzEiLAogICJlbGVtZW50LmxpbmsiIDogIi9lbGVtZW50Lmh0bWwuc3R4IiwKICAibGlzdGVuZXJwYXRoIiA6ICIvY21zYWN0aW9ucyIsCiAgInNraW4iIDogInNraW5zL2FsaW5hdmlnYWF0aW8uaHRtbCIsCiAgImVsZW1lbnQubG9hZCIgOiAic2VydmVyIiwKICAiWFhYZWxlbWVudC5vbmxvYWQiIDogInNlcnZlciIsCiAgImNoYW5uZWwubGFuZ3VhZ2UiIDogImVuIiwKICAiSU5TVEFOQ0VJRCIgOiAiT3ZXYmRCVTc2IiwKICAiZWxlbWVudC5tb2RlIiA6ICJlbGVtZW50IiwKICAiZWxlbWVudC5sYW5ndWFnZSIgOiAiZmkiLAogICJpMThuLmJhc2UiIDogImhzcmt5L3RrL29zaW9zaXZ1L2FsaW5hdmlnYWF0aW8iLAogICJlbGVtZW50LnBhdGgiIDogImhzcmt5L3RrL29zaW9zaXZ1L2FsaW5hdmlnYWF0aW8iLAogICJwdWJsaWN1cmwiIDogIi9lbGVtZW50Lmh0bWwuc3R4IiwKICAiZWRpdHVybCIgOiAiL2Jpbi9nZXQvdmVkL2ppNEV2dEdMUi5qaTMwR0pVTFIuREV4TlR2ekk3IiwKICAiIiA6ICIiLAogICJ2aWV3dXJsIiA6ICIvYmluL2dldC92aWQvamk0RXZ0R0xSLmppMzBHSlVMUi5ERXhOVHZ6STciLAogICJHVUlEIiA6ICIiLAogICJsYW5nIiA6ICIiCn0=